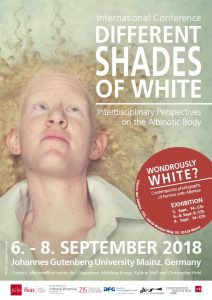 Albinism has received increased attention in the past decade when incredible atrocities inflicted on Persons with Albinism in Eastern Africa, as well as, fashion models with albinism around the world made media headlines. Several photographers explored the aesthetic potential of albinotic bodies and emphasized a sociocritical impetus in their work.
This exhibition displays selective pieces from four photo series by Miia Autio (Finland), Justin Dingwall (South Africa), Paola de Grenet (Spain) and Gustavo Lacerda (Brasil). Beholders are invited to compare their visual strategies of contrasts and adaptions that aim at renegotiating the social perception of the portrayed subjects.
The exhibition is part of an international conference taking place at the same time under the titel "Different Shades of White: Interdisciplinary Perspectives on the Albinotic Body".
Opening hours:
Wednesday 5. Sept. 14-17h
Thursday to Saturday 6.-8. Sept. 9-17h
Sunday 9. Sept. 14-17h
Free entry!